Follow Jann and Rodney
on social media to get a closer peek behind-the-scenes
at the show.





Keep up with the stars of our show.

Follow us on social media.





Sign up HERE for
news & announcements.
Don't miss out on all the fun!











Is a not-so-guilty
pleasure

Small Town
Big Deal


Welcome to our new TV stations for the 2020-2021 season!


Watch the great stories of America with co-hosts
Rodney Miller & Jann Carl

Small Town Big Deal is a nationally syndicated broadcast and cable television show. The show airs weekly across the United States on local TV stations and throughout the world via the Armed Forces Network.



GOING A LITTLE
STIR CRAZY?
Binge-Watch
to Your Heart's
Content!

WATCH FREE EPISODES



All-American & Family-Friendly
WATCH FREE EPISODES
Small Town Big Deal
carries the prestigious PTC seal of approval from the Parents Television Council.




BINGE-WATCH
TO YOUR HEART'S
CONTENT!
WATCH FREE EPISODES
2020 – Finding Gratitude in a Difficult Year
Discover the heart of our show in this 2020 highlight video presented to our devoted stockholders who support the Small Town Big Deal mission. We are all about gratitude for Americans, our veterans, farmers and all that unites us a country. Yes, despite a difficult year, we were grateful in 2020.
Salute to Veterans Special
Rodney and Jann celebrate and honor the men and women who have served in the military in this special episode. Also meet a man who used his life's entire savings to create a permanent full-scale replica of the Vietnam Veterans Memorial Wall that's in Washington, D.C.
Friday Night Lights
It's Friday night high-school football down in Trussville, Alabama, where the Huskies are taking on the No. 1 team in the state. Catch the fever as a small town community comes together to cheer on their underdog team along with a very special field-goal kicker.
A Visit with the Talking Heads of Terry Fator
Ventriloquist Terry Fator talks to Jann and Rodney about the popularity and growth of ventriloquism today and what led him to his career. Terry, the season two winner of America's Got Talent, also touches on all the great ventriloquists through the years and the ones that influence him.
D-Day
Once each year, a small Ohio town gets transformed into the most dramatic day in history for Normandy Beach. Spectators watch as thousands of volunteers reenact D-Day through the largest open-air museum. You will see German-occupied France in 1944 complete with soldiers, weapons and more from the USA, UK, Canada, Poland and other countries that were involved.
Cactus League
The World Series of Ball Park food that tests your taste buds and waistline! Jann and Rodney discovered there was much more to ball park food than the original peanuts and cracker jacks here at the Cactus League.
Small Town Big Deal "Au Sable Canoe Marathon"
Jann and Rodney travel to northern Michigan for the Au Sable River Canoe Marathon. This thrilling race spans over 100 miles and is the granddaddy of all canoe races.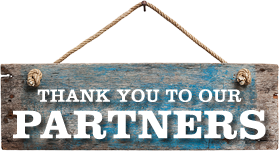 We have incredible partnerships with amazing American companies that help make Small Town Big Deal possible.
Check out our PARTNERS page to see some of the truly wonderful stories they have inspired.
See what's sizzlin' this season at Small Town Big Deal.
Here's a sneak peek!
Small Town Big Deal Tops 1 Million Weekly Viewers
Small Town Big Deal is doing a little celebration of its own after recently surpassing the 1 million mark in weekly viewership.
The milestone was recorded for the six-month period of October 2015 through March 2017 with P+2 viewership (all viewers above 2 years of age) of over 1 million viewers and an average national HH rating of 0.70. The numbers are based on Nielsen ratings.