A Visit with the Talking Heads of Terry Fator
Ventriloquist Terry Fator talks to Jann and Rodney about the popularity and growth of ventriloquism today and what led him to his career. Terry, the season two winner of America's Got Talent, also touches on all the great ventriloquists through the years and the ones that influence him.
Small Town Big Deal "AuSable Canoe Marathon"
Jann and Rodney travel to northern Michigan for the AuSable River Canoe Marathon. This thrilling race spans over 100 miles and is the granddaddy of all canoe races.
D-Day
Once each year, a small Ohio town gets transformed into the most dramatic day in history for Normandy Beach. Spectators watch as thousands of volunteers reenact D-Day through the largest open-air museum. You will see German-occupied France in 1944 complete with soldiers, weapons and more from the USA, UK, Canada, Poland and other countries that were involved.
Chincoteaque Pony Swim
Virginia's century-old tradition and biggest event of the year involves saltwater cowboys and a quarter-mile roundup over the Atlantic channel. See the action, pony auction and meet the children who are hoping they have the winning bid to take home the pony of their dreams.
Cactus League
The World Series of Ball Park food that tests your taste buds and waistline! Jann and Rodney discovered there was much more to ball park food than the original peanuts and cracker jacks here at the Cactus League.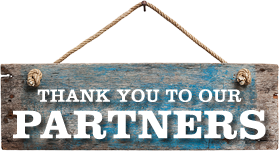 We have incredible partnerships with amazing American companies that help make Small Town Big Deal possible.
Check out our PARTNERS page to see some of the truly wonderful stories they have inspired.
See what's sizzlin' this season at Small Town Big Deal.
Here's a sneak peek!
Small Town Big Deal Tops 1 Million Weekly Viewers
Small Town Big Deal is doing a little celebration of its own after recently surpassing the 1 million mark in weekly viewership.
The milestone was recorded for the six-month period of October 2015 through March 2017 with P+2 viewership (all viewers above 2 years of age) of over 1 million viewers and an average national HH rating of 0.70. The numbers are based on Nielsen ratings.