Celebrate the joy of
Christmas Across America
with Small Town Big Deal's
4th annual Christmas special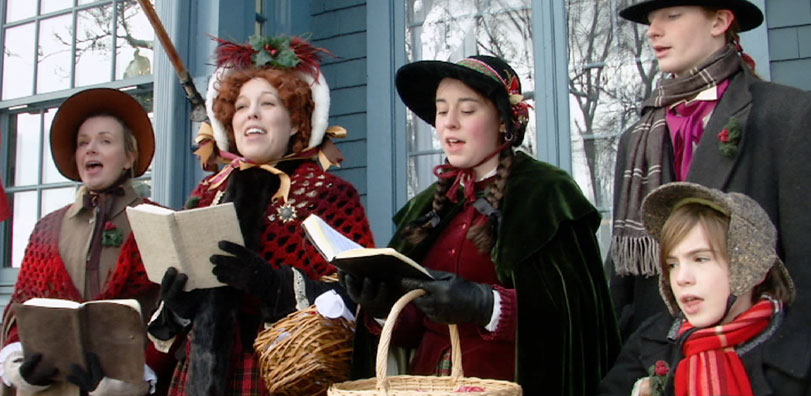 Charles Dickens' 'A Christmas Carol' comes to life in upstate New York
We're back for another year celebrating the season of giving and gratitude in communities across the country. And while we take you along to explore all the fun and festivities that make Christmas so joyful, we also share stories of how, during this time of year, hearts are opened, and peace and goodwill take center stage. Here's a peek inside our featured stories:
Wreaths Across America: From its humble beginnings with one family to an army of volunteers today, this annual tradition of gratitude is 'love in action', honoring our Veterans across the country.
A Dickens Christmas: An upstate New York town brings all the characters from "A Christmas Carol" to life. Even Scrooge is lovable in this small town! "God bless us everyone!"
Byers' Choice: An inspiring story of one mom's artistic hobby growing into a national holiday tradition. This unique family-owned company operates with purpose and a focus on giving back to others.
Steven Curtis Chapman: Our special musical guest, this multiple Grammy winner will debut his new song and share some special Christmas cheer.
The 2019
Christmas Across America
ratings speak
for themselves!
New York 6.377
Los Angeles 4.808
Chicago 3.04
Philadelphia 2.578
Dallas-Ft. Worth 2.395
San Francisco 2.21
Washington DC 2.19
Houston 2.178
Boston 2.15
Atlanta 2.12
Detroit 1.6
St. Louis 1.03
Pittsburgh 1
Source: Nielsen Media Research
Find out where to watch Christmas Across America
in your Town