Small Town Big Heart
Makanda's Story Touched Our Hearts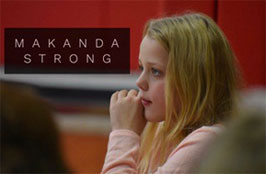 Throughout their travels across the country to film Small Town Big Deal, Rodney and Jann often discover people with extra special needs – like Makanda Williams, a young girl from Illinois with a rare form of brain cancer. Her heartbreaking story and others like hers are the inspiration behind Small Town Big Heart, a new segment of our show. We'll be paying it forward with a 30-second commercial on the show that runs periodically to highlight individuals and organizations with special needs.
By featuring these special stories on our show and website, we hope to make a difference with the support of our fans across America. Be sure to visit our website often to view the next Small Town Big Heart story and learn how you can help. Because together, we can do more.
Makanda's community, family, and friends are cheering her on, praying for a miracle and working to raise money for experimental treatments in Mexico.